Honor with Books program raises $60,000 for library
Submitted by Mireya Fonseca
July 25, 2003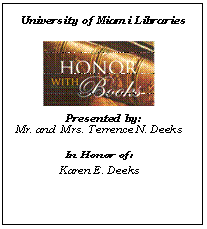 Since Spring 2003, the Library has been the recipient of funds through the Honor with Books program. This program was initiated by Tina Surman, former Director of Library Development. University Advancement contacted the parents of currently enrolled students and asked them to contribute to the program and support our libraries. Donors of $50 or more are recognized by a special bookplate with the names of the donor and the honoree (usually a student) placed in one of our recent acquisitions.
Copy catalogers are issued sheets of bookplates on a regular basis and they designate which titles, received through our Blackwell's blanket order plan, will receive the bookplates. Once cataloging is complete, the books and bookplates are sent to the Processing and Preservation Unit where staff paste the bookplates into the books.

You may find the following information to be of interest:
Approximately 850 new books have received the Honors with Books bookplate

More than 900 parents of UM students have participated in the program through their donations

The library has received $60,000 as of July 2003 from this program

Total money pledged amounts to $85,000
Thanks to everyone who has made this program a SUCCESS!

Replacement of rusty frames in the loose periodicals shelving
Submitted by George Skokan
July 25, 2003
Approximately 30 frames within the shelves housing the loose journals need to be replaced due to rust. The replacement work and associated shifting is scheduled to take place Tuesday through Saturday, August 5-9. During this time, the collection will be unavailable to patrons. The William H. Walker, Jr. Reading Area will also be closed to patrons. We apologize for the inconvenience.
New Workshop! Managing Differences August 13 & 25
Submitted by Nellie Li
July 28, 2003
Managing Differences
We welcome back Sally Philips from EAP for another great seminar! Please read the description below:
It has been estimated that over 65% of performance problems at work are the results from the conflict between employees, not the individual employee's skills to do the job. Differences in attitudes, priorities, perceptions, interests, and opposing points of view can often be a source of conflict. This seminar shows you an approach that is exciting and empowering by teaching you to transform the negative energy of anger into a positive productive force. Role-playing is an essential part of this seminar.
Who should attend? Open to all UM employees
Training Hours: 2
Course Type: Employee Benefits and Wellness
Course Schedule:
Wednesday, August 13, 2:30 p.m.-4:30 p.m.
Monday, August 25, 10:00 a.m.-12:00 p.m.
Location: All workshops will be in the Library Conference Room
RSVP Required: Please contact Nellie Li, nmli@miami.edu
Note: Permission from your supervisor and/or department head is required in order to register.
Shelving removal & installation in Stacks
Submitted by George Skokan
July 28, 2003
Workers will be removing or installing shelving on the 4th, 5th, 6th, & 7th floors from August 7-8. Not only will there be noise from the work, but the wait time for the Stacks elevator will increase when the workers are transporting shelving parts to & from storage. We scheduled this work for the inter-session in the hope of minimizing any inconvenience & apologize if any occurs.