New Redesigned Miami Sun
September 3, 2003
Submitted by Ray Uzwyshyn
There's a new smiling sun in the East and it's on the library website at http://www.library.miami.edu. The Fall Richter library redesign features new templates, cascading style sheets, colors and a smiling UM Sun Flash based navigation system. The website also takes a step closer to the UM orange/green color scheme and a larger design consistency. Stay tuned as Richter prepares to implement a new e-chat reference and meta-database linking system this fall continuing towards a more visual, interactive and multimedia based paradigm. To read more about some of the innovation planned and in development, please visit the library weblog at http://libprod.library.miami.edu:41430/webservices.
Cookies-n-Learn on Friday, September 12
September 8, 2003
Submitted by Nellie Li
You are invited to attend our next "Cookies & Learn" workshop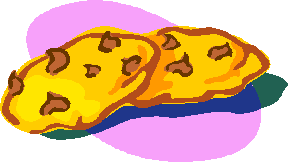 Presentation by: Doris Jui
"Tuning into Customers' Delivery Options: a pilot project"
Description: This session looks at the Business Library's pilot project that found various ways in which the library can support faculty instruction. Examples, practical tips, and resources for launching others in the development of faculty support materials will be demonstrated.
When: Friday, September 12
Where: Library Conference Room, 3rd Floor
Time: 2:00– 3:00 PM
For information, contact Nellie Li: nmli@miami.edu
FREE COOKIES!
Blackboard for Library Users
September 8, 2003
Submitted by Nellie Li
Bill Vilberg's workshop on "Blackboard" is targeted toward library faculty, administration, and staff. This course is meant to provide an introduction/overview to this software and its many uses.
In the event that there is not enough interest, Bill will open up the registration to some of his former students.
In the next few months, Bill will be providing information sessions on various topics targeted towards library employees. If you have any questions please contact me at x8-8321 or email me at nmli@miami.edu.
Blackboard for Library Uses
See how you can create material in Blackboard that can be used in specific courses. Create a module including handouts, instructions, PowerPoint slide shows, guided tours, and even assessments. Then have it copied into any course so that the students there can access it. An easy and powerful way to provide instructional support to classes. This session will demonstrate the process.
When: Wednesday, September 17, 2003
Time: 12:00-1:00 PM
Location: Richter Library, 3rd Floor Conference Room
Registration: Email Nellie Li, nmli@miami.edu

Lunch is provided courtesy of the Instructional Advancement Center

Note: Registration is required. Permission from your supervisor and/or department head is required in order to register.
New online business card request form
September 9, 2003
Submitted by Alexis Yordan
To request business cards, please complete the online form now available on the library intranet Procurement Services page.
http://libstaff.library.miami.edu/forms/BusinessCardsRequestForms.pdf. If you have any questions, please contact me at x6776 or ayordan@miami.edu.
Mandatory: Emergency and Disaster Procedures
Submitted by Nellie Li
August 1, 2003
To All Library Employees:
It is mandatory that all library employees be familiar with the "Emergency and Disaster Procedures." If you did not attend any of the training sessions led by Roca Beiro, Disaster Coordinator, it is required that you review the presentation which is now posted on our Library Intranet Home Page.
Go to the Library Intranet Home Page (click on the following link) and then click on the "Emergency and Disaster Procedures" icon.
http://libstaff.library.miami.edu
After you review the presentation, please email Nellie Li at nmli@miami.edu or call at (305) 284-8321. It is each employee's responsibility to be familiar with the Library's Emergency and Disaster Procedures. Upon emailing Nellie, you will be checked off as having completed this training session.
Managers and Supervisors are responsible for ensuring that their student employees are familiar with these procedures. If you have any questions regarding specific procedures for your department please contact your supervisor.