Music Library Webdesign
Turn on your speakers, UM's Albert Pick Music Library has undergone a major redesign. The site is now interactive and acoustically enabled. Featured in the new redesign is a Flash 'musical staff and overarching score metaphor' and tighter integration with the existing UM Libraries online infrastructure. Highlights include a multimedia Flash interface for the Larry Taylor and Billy Matthews Musical Theatre Archives, streaming music MP3 site for the libraries "international archive of double bass" recordings and new database acquisition of the "Classical Music Library". Students and faculty may now listen to a large number of classical composer and their various repertoires online.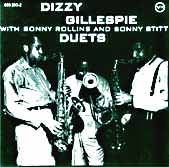 (Dizzy Gillespie & Sonny Rollins Duet Album Cover)
To detail the design, a tight integration with UM libraries existing design was accomplished through the addition of templates, cascading style sheets for typography and Flash banners to enable an easier navigation.
Photographs were taken of the library and staff and these images were integrated in a larger pictographic structure branding the 'site' as a 'music' library and metaphorically capturing the essence of many of the library's pages. For example, the Music Library's special collections were enlivened through a stronger visual layout regarding the James Joyce Sheet Music Collection, Sabat Collection and Cantica Sacra Manuscripts. Similarly, previously long scrolling list "Classification Indexes" were enlivened wtih a visual descriptive dimension.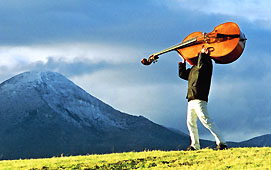 New possibilities of "Flash Technology" was used in the "Larry Taylor and Billy Matthews Musical Theatre Archive" to give the database pizzazz and flash. For the Playbills, Scores and Recordings Databases, various images from the archives were used to market the site drawing on the rich history of playbills, scores and recordings cover design.
With regards to the "International Archive of Double Bass Recordings", a recorded program was developed with Professors Lucas Drew and radio host Lyn Farmer. A program made up of selections from famous double bass numbers with a musical commentary was developed to play on desktop PC's.
The music library in its array of diverse multimedia technologies moves another step in exploiting possibilities of 'new media' technology for digital libraries. While the redesign is a major step in the music library's online evolution, this only begins to tap the possibilities of what may be achieved. Onwards towards the future with more resources, stronger attention to more widespread and prevalent multimedia and interactive possibilities.
Posted by at December 1, 2003 9:20 AM