Introduction
Introduction |Zvenyhora (1928) | Arsenal (1929) | Earth (1930) | Conclusions
Filmography | Earth Chronology | Bibliographies | Contact
Over Kyiv - there is a golden clamour, doves, the sun!. . .
And that golden clamour. Oh, golden clamour!

(Pavlo Tychyna, "Golden Clamour" Kyiv, 1917)[1]

Alexandra Exter, Sevr Bridge, Kyiv, 1912, Oil on Canvas
Between Ukrainian Cinema and Modernism: Alexander Dovzhenko's Silent Trilogy
Along with Dziga Vertov, Sergei Eisenstein and Vsevolod Pudovkin, Alexander Dovzhenko is one of Soviet cinema's early masters. Best known for his silent films, Zvenyhora (1928), Arsenal (1929) and Earth (1930), Dovzhenko holds a dominant place among avant-garde directors. It has generally not been recognized that Dovzhenko's early canon was also an integral part of the Ukrainian cultural renaissance. This work looks at Alexander Dovzhenko's Soviet Ukrainian trilogy in the light of the silent cinema's early aesthetic and presents an analysis of the silent trilogy in the context of the Ukrainian Cultural Renaissance (1917-31)[2] and its dialogue with a wider modernist avant garde.
(This playlist contains links to the Trilogy: Zvenyhora, Arsenal and Earth.)
| | | | |
| --- | --- | --- | --- |
| | | This examination focuses on a film trilogy more often quoted than known through lesser known histories: Ukrainian modernism, early twentieth century debates in Ukrainian literature and fine art, futurism, the Berezil Theatre, Byzantine iconology and European modernist currents. More than a few critics have labeled Zvenyhora, Arsenal, and Earth the silent cinema's apogee [3]. Most of the literature on Dovzhenko's films places his films in either a transcendent pantheism that rises above the socio-political or into the 'Union' definition of early Soviet revolutionary avant-garde cinema (e.g. theories of montage, mass as hero, Marxist ideology).From a Ukrainian social, cultural and political background, Dovzhenko's history among canonized Soviet masters is unique but also emblematic of the cultural fate of the non-Russian republics. | |
| | | | Alexander Dovzhenko, Cubo-Futurist Self Portrait, 1925 |
Earlier western cinema writers such as Paul Rotha, Harry Potamkin, Herbert Marshall, the French communists, Leon Moussinac and Henri Barbusse, and New York Times journalist, Walter Duranty, review Dovzhenko's films, failing to recognize Ukrainian or other contemporary modernist sources. This early construction is encouraged by later Stalin-era sources. The chapters to follow contextualize Dovzhenko's work within historical Ukrainian, English, Russian and French reviews, critique, paratextual material, North American journals and newspapers, Soviet propaganda and earlier Ukrainian renaissance work regarding Dovzhenko.[4]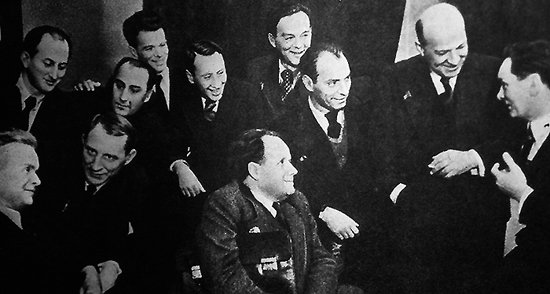 All Union Creative Conference of Workers in Soviet Cinematography,
Dovzhenko sitting far left, Sergei Eisenstein centre, Vsevolod Pudovkin far right
After the death of Stalin, Dovzhenko's autobiographical novel, Zacharovana Desna (The Enchanted Desna), initiated the "thaw" in Ukrainian literature. As well as film director and scenarist, Dovzhenko's literary output is considered seminal in Ukrainian literary history. With the archival openings in the wake of the Soviet Union's dissolution, revisionist work has begun to appear. Literature on this period and topics such as Ukrainian civil war, art history, folklore, collectivization and famine will be considered in the following examination.
Methodologically, this study draws on the work of Michel Foucault. It contextualizes the silent trilogy in submerged discourses and makes use of Dovzhenko's writings overlooked in East and West. Dovzhenko's aesthetic embodies a polyphony of international modernist currents in a regional variant. In their rearticulation of surrealism, dada and a neo-Byzantine kinetic muralism, the films dialogue with early European modernism and subsequently marginalized other configurations (Mexican muralists).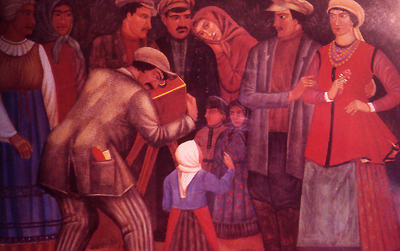 "Photograph", Ivan Padalka, 1925
Within the tradition of film studies, Alexander Dovzhenko is grouped among Soviet film masters. Substantial bodies of literature surround Eisenstein and, to a lesser extent, Pudovkin, Vertov and the Soviet Golden Age. This work employs the works of Dovzhenko's contemporaries and western cultural historians and theorists[5] working in a syncretic manner to analyze segments and contextualize the silent trilogy within this context but also in previously submerged socio- cultural backgrounds.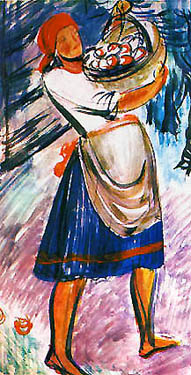 Girl with Apples, Oksana Pavlenko, 1925, Kyiv, Tempera on Paper
Introduction |Zvenyhora (1928) | Arsenal (1929) | Earth (1930) | Conclusions|
Filmography | Earth Chronology | Bibliographies | Contact
Notes
[1] Tychyna, Pavlo. "Zolotiy Homin'" (The Golden Clamour) in Zybrannya Tvoriv u Dvanadsiaty Tomakh: Tom Pershiy. Kyiv: Naukova Dumka, 1983. p. 82. (This translation is my own.)
[2] Literary historian, Yuri Lavrinenko, termed this period the "Garrotted" or "Shot-Out Renaissance", "Rozstriliane Vidrodzennia". Lavrinenko, Y. Rozstriliane Vidrodzhennia: Antolohiia, 1917-1933. Paris: Instytut Literacki, 1959.
[3] Recently, see Perez, Gilberto. The Material Ghost. Baltimore: John Hopkins University Press, 1998. p. 163. Earlier see, Harry Alan Potamkin, "Soil as the peak of the mute aesthetic". Movies: Soil The New Masses. December 19, 1930. p. 19.
[4] Museum of Modern Art Archives, Lincoln Centre, Tamiment Library of Radical and Labor History Archive, New York Public Library Slavonic Division, Ukrainian Academy of Arts and Sciences (New York), Shevchenko Scientific Society, Oseredok Centre for Ukrainian Culture and Education, Harvard Ukrainian Research Institute, Widener Library, Frick Art Library, Museum of Modern Art Library, NYU Bobst Library.
[5] i.e. Dmytro Chyzhevskyi, Mykola Khvylovy, Mikhail Bakhtin and more recently, Myroslav Shkandrij's Modernists, Marxists and Nation. Edmonton: CIUS Press, 1992. Robert Stam's Subversive Pleasures. Baltimore: John Hopkins University Press, 1989. and Unthinking Eurocentrism: Multiculturalism and Media New York: Routledge, 1994